Broomhildas Bakery Book

Broomhildas Bakery Book The Sewing Version from Kimberbell.


Deck the Halls

Deck the Halls Christmas Bench Pillow by KimberBell measures 16" x 38"


Kimberbell Cuties

Kimberbell Cuties includes 12 months of Kimberbell Table Toppers that are fun, fast, and finished!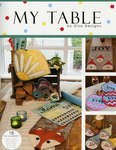 My Table

My Table by Disa Designs includes 18 quick and lively projects: runners, table toppers, place mats, mug mats and glass mats. The book includes a diverse selection of projects spanning all seasons and various holidays.


Slice of Summer Watermelon Bench Pillow

Slice of Summer Watermelon Bench Pillow by Kimberbell measures approximately 16" x 38".


The Block Maker

The Block Maker Book from Bloc Loc. For Half-Rectangle Triangles by Janna Thomas. Over 50 Rotary Cut Blocks in 4 sizes. Simple Piecing Instructions. Over 100 quilt designs.